Located near the Destiny USA Mall in Syracuse, Bohemian Bean has been making coffee lovers happy since 2005. Bohemian Bean's mission is to support other local businesses in their effort by doing their part and purchasing their products locally. All of their coffee is locally roasted fair trade/organic from around the world.
Bohemian Bean is known for hosting creative events and having an over all fun atmosphere. Their walls are continuously being updated and decorated with talented artwork of local students and adults from around the area. The artsy decorations and their peculiar cups and teapots definitely give it its different community feel and bohemian vibe.
Their menu consists of a diversity of coffee, teas, chai, and fresh fruit smoothies. Their breakfast options include waffles and breakfast sandwiches on a range of breads. All of their pastries are homemade and you also have the option of ordering a fresh made-to-order grilled panini. Customers appreciate the free parking and its central location. They also enjoy that on sunny or warm occasions Bohemian Bean offers outside seating in the back!
Address: 2100 Park St, Syracuse, NY 13208
Phone: (315) 412-7074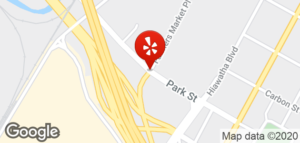 2100 Park St
Regional Market Commons
Syracuse, NY 13208
For a gourmet cup of coffee make your way to Phoebe's on East Genesee. This restaurant has a small lounge that provides a coffee experience like no other. Their comfy couches make it easy for customers to grab a book and spend the day with just that and a cup of coffee. The fancy seating arrangement, warm shades of burgundy, and lounge decorations give it a welcoming vintage look and feel. They also provide free wifi and have even set up tables for group work or discussions. Phoebe's is a great place to do some quiet reading and relaxing all over a delicious cup of coffee.
Phoebe's house blend of coffee seems to be a customer favorite while they offer your regular cappuccino, latte, mocha, and espresso. All of their coffee beans are freshly roasted from Creekside Books and Coffee in Skaneateles, NY. Their menu also includes homemade soups, breakfast sandwiches, and baked goods.
In addition to all of the made-to-order coffee and espresso drinks, the Coffee Lounge serves as a take-out window as well for whenever you're on the go. Phoebe's Restaurant and Coffee Lounge is located on East Genesee Street across from Syracuse Stage. It continues to be an establishment dear to the Syracuse city history and will continue to perpetuate its old world charm.
On Sundays Phoebe's is closed for private parties.
Address: 900 East Genesee St, Syracuse NY 13210
Phone: (315) 475-5154
Prices: $$$
Web-site: https://www.restaurantji.com/ny/syracuse/phoebes-restaurant-and-coffee-lounge-/
Tyme-Out Café is a gluten-free cafe located inside Natur-Tyme grocery market. It is especially known for being vegan friendly. They offer a variety of beverages including smoothies, fruit juices, organic tea, milkshakes, and coffee. Their food menu essentially consists of 3 daily soup options, chili, and a few flavors of gelato. Some of their soup options include zucchini curry or lentil spinach and they offer turkey chili as well as vegetable chili. For vegans, the gelato options are raspberry and blood orange.
If you are interested in their juices they offer beet, wheatgrass, and ginger shots and many of their smoothies have flax seed in it. Their coffee drinks options include your regular cappuccinos, mochas, lattes, and iced coffees as well as chai and iced tea beverages.
Although Tyme-Out Cafe does not provide the typical café experience because it is located in the grocery store, Tyme-Out's all-encompassing beverage options seems to be making up for it. This café is fairly brand new and really prides itself in its uniqueness in offering gluten-free and vegan options.
Address: 3160 Erie Blvd. E, Syracuse NY 13214
Phone: (315) 488-6300
Prices: $$
At Dunkin' Donuts you can expect to find a variety of baked goods and assorted donuts along with a range of breakfast meals. Dunkin' Donuts offers a variation of breakfast sandwiches on Texas toast, English muffins, croissants, and more. Oatmeal and hash browns are also available and franchise locations even offer bakery sandwiches like ham and cheese; turkey, cheddar and bacon; and Texas toast grilled cheese.
Dunkin' Donuts, a very well-known franchise in the North East, can be found around the Syracuse University campus at two locations.
The first of the two is on the Syracuse University campus in the Student Schine Center. Although much smaller than franchise locations, customers can expect to find essentially the same menu you would find at any other Dunkin' Donuts with the exception of seasonal promotions and limited time offers. This Dunkin' Donuts is particularly popular amongst students for its convenient location right on campus. Considering it is in a dining hall, SU Super Card is accepted. This location is especially busy on Monday through Thursday before noon.
The actual franchise restaurant is located in the Marshall Street area. Like any other location it offers a variety of hot, iced, and frozen beverages. And aside from a multitude of baked goods and breakfast sandwiches, this Dunkin' Donuts also offers their classic bakery sandwiches. This location also participates in limited time offers, specials, and seasonal promotions.
Address: Syracuse University – 303 University Ave, Syracuse, NY 13244
Phone: (315) 443-9886
Prices: $$ (Accepts SU Super Card)
Address: 746 S Crouse Ave, Syracuse, NY 13210
Phone:(315) 385-4002
Prices: $$
The Boba Suite Tea House located in the Marshall Street area prides itself in having a Taiwanese influence. While the "bubble tea" originated in Taiwan in the 1980's, the popular drink has successfully made its way to the states. Syracuse University Alum, Glenda Nuñez, opened the tea house in March of 2012 in hopes of connecting more with the campus. "I want students to have a place to showcase their work and for kids to think of this place as a home base to chill. I want to create a more 'homey' feel," she says.
The ambiance is definitely on its way. At almost any given time students stop by to hang out in small groups of friends or just to enjoy the relaxing music and environment. As far as what type of tea you can expect, the possibilities seem endless. While their seasonal drinks include milk tea, smoothies, nectar, green tea, and brewed tea they also offer a series of yogurt drinks and different flavored lemonades. Despite the extensive number of flavors they offer perhaps the most fun part is choosing your favorite topping. The original "big boba" tapioca, which includes sweet potato, cassava root and brown sugar, remains quite popular. However, Boba Suite offers a variety of toppings which include: egg pudding, coffee jelly, golden jade jelly, lychee jelly, konjac jelly, aloe, strawberry pop boba, lychee pop boba, mango pop, and whipped cream.
Nuñez plans to nurture the growth of the tea house and expand what it has to offer. Although the menu is currently limited to beverages, we can expect to see food on the menu in the future. It'll be something small, not a sit-down dinner place but more so pastries and baked goods. Nuñez also wants to expand to parfaits and yogurts with a wide variety of toppings. For long-term, Boba Suite is experimenting with a Boba late-night menu in which we can expect drinks such as a Baileys mint chocolate chip milkshake.
The Boba Suite Tea House delivers in a 3 mile radius and if you order 10 drinks, you get one (16 oz.) free or no delivery charge.
Address: 713 S Crouse Ave, Syracuse, NY 13210
Phone:(315) 299-5084
Prices: $$