Located near the Destiny USA Mall in Syracuse, Bohemian Bean has been making coffee lovers happy since 2005. Bohemian Bean's mission is to support other local businesses in their effort by doing their part and purchasing their products locally. All of their coffee is locally roasted fair trade/organic from around the world.
Bohemian Bean is known for hosting creative events and having an over all fun atmosphere. Their walls are continuously being updated and decorated with talented artwork of local students and adults from around the area. The artsy decorations and their peculiar cups and teapots definitely give it its different community feel and bohemian vibe.
Their menu consists of a diversity of coffee, teas, chai, and fresh fruit smoothies. Their breakfast options include waffles and breakfast sandwiches on a range of breads. All of their pastries are homemade and you also have the option of ordering a fresh made-to-order grilled panini. Customers appreciate the free parking and its central location. They also enjoy that on sunny or warm occasions Bohemian Bean offers outside seating in the back!
Address: 2100 Park St, Syracuse, NY 13208
Phone: (315) 412-7074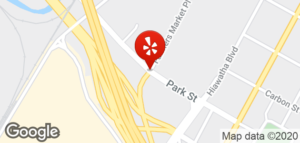 2100 Park St
Regional Market Commons
Syracuse, NY 13208