Located near the Destiny USA Mall in Syracuse, Bohemian Bean has been making coffee lovers happy since 2005. Bohemian Bean's mission is to support other local businesses in their effort by doing their part and purchasing their products locally. All of their coffee is locally roasted fair trade/organic from around the world.
Bohemian Bean is known for hosting creative events and having an over all fun atmosphere. Their walls are continuously being updated and decorated with talented artwork of local students and adults from around the area. The artsy decorations and their peculiar cups and teapots definitely give it its different community feel and bohemian vibe.
Their menu consists of a diversity of coffee, teas, chai, and fresh fruit smoothies. Their breakfast options include waffles and breakfast sandwiches on a range of breads. All of their pastries are homemade and you also have the option of ordering a fresh made-to-order grilled panini. Customers appreciate the free parking and its central location. They also enjoy that on sunny or warm occasions Bohemian Bean offers outside seating in the back!
Address: 2100 Park St, Syracuse, NY 13208
Phone: (315) 412-7074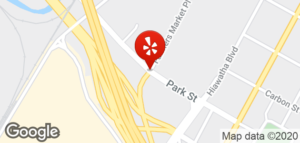 2100 Park St
Regional Market Commons
Syracuse, NY 13208
For a gourmet cup of coffee make your way to Phoebe's on East Genesee. This restaurant has a small lounge that provides a coffee experience like no other. Their comfy couches make it easy for customers to grab a book and spend the day with just that and a cup of coffee. The fancy seating arrangement, warm shades of burgundy, and lounge decorations give it a welcoming vintage look and feel. They also provide free wifi and have even set up tables for group work or discussions. Phoebe's is a great place to do some quiet reading and relaxing all over a delicious cup of coffee.
Phoebe's house blend of coffee seems to be a customer favorite while they offer your regular cappuccino, latte, mocha, and espresso. All of their coffee beans are freshly roasted from Creekside Books and Coffee in Skaneateles, NY. Their menu also includes homemade soups, breakfast sandwiches, and baked goods.
In addition to all of the made-to-order coffee and espresso drinks, the Coffee Lounge serves as a take-out window as well for whenever you're on the go. Phoebe's Restaurant and Coffee Lounge is located on East Genesee Street across from Syracuse Stage. It continues to be an establishment dear to the Syracuse city history and will continue to perpetuate its old world charm.
On Sundays Phoebe's is closed for private parties.
Address: 900 East Genesee St, Syracuse NY 13210
Phone: (315) 475-5154
Prices: $$$